Laundry Services Drop off & Self Service with Attendant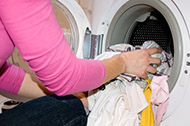 Shirts
Casual wear
Items that are not dry-cleanable
Full-Service Laundry
Laundry can be time consuming, so leave the work to us! The Clothes Basket offers affordable, convenient laundry services, so you can get out of the laundromat and enjoy your free time! We'll return your laundry to you folded or on hangers — just let us know which you prefer. Best of all, we offer free, local pick up and drop off service. See our Pick Up & Delivery page for details.
*** Drop off your Laundry by 9:00 am, and we'll have it ready for you at 4:00 pm the same day – NO Additional Charge!
Self-Serve Laundromat
Whether you need a large washer to accommodate your comforter, are washing the soccer teams uniforms or are looking for a clean, comfortable place to launder your clothes, The Clothes Basket's self-service laundromat is the place to go! All of our machines are expertly serviced, so they're always in proper working order. Plus, our dryers utilize gas for more even, effective drying. Not only do we offer the best laundry services and laundromat facilities in the Paw Paw, MI area, but our attendant is on duty at all times for your convenience and peace of mind.
Our Self-Serve Laundromat features:
TVs
Comfortable Seating
Snack Machine
Air Conditioning
Free WiFi
On-Duty Attendant
Our Coin Operated Laundry Facilities are Open:
7 days a week – 6:00 am – 9:00 pm (last load at 8:00 pm)